SIMPLE & STRAIGHTFORWARD
NbN is driven by pharmacology and mode of action. These two elements encapsulate the essence of the nomenclature.
PHARMACOLOGY
This nomenclature applies contemporary pharmacological knowledge rather than arbitrary descriptors based on indication (antidepressants, antipsychotics, etc.) or chemical structure.
ENHANCED ADHERENCE
Through a naming system that provides a pharmacological rationale for selecting a specific drug, rather than the diseased-based and sometimes confusing conditions (i.e. prescribing antidepressants for anxiety).
Structure of NbN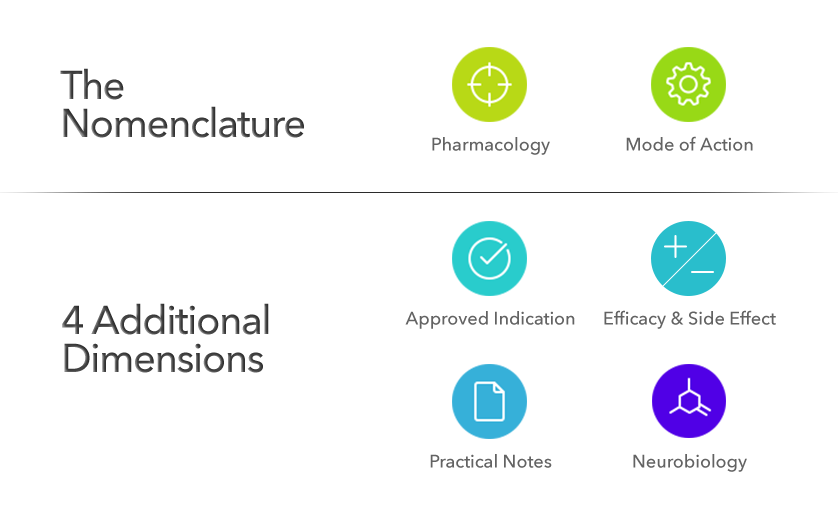 Pharmacology
Reflects current knowledge and understanding about the pharmachological domain - neurotransmitter/ molecule / system being modified
Mode of Action
Reflects current knowledge and understanding about the mechanism of action
Additional Dimensions
We've included four additional dimensions of relevant information regarding every drug in the nomenclature.
The Official NbN app.
Available free of cost to enhance treatments and improve psychiatric health
Approved by international colleges of neuropsychopharmacology and leading scientific journals, the NbN app helps you choose the most appropriate psychotropic treatment and apply its name correctly.
Features an easy-to-use search engine that sorts the compound by name (generic or brand), pharmacology, mode of action, indications, efficacy, side effects, former terminology, as well as any combinations of these variants, to achieve fast and accurate results.
The information featured in this app is automatically updated twice a year to reflect the development in research and contemporary understanding in neurobiology.

NbN helps the clinicians to make the informed choices when they are trying to figure out what will be the next pharmacological step

The existing nomenclature was initiated in the 1960's and has not been systematically updated since. Hence, it doesn't reflect the current scientist knowledge